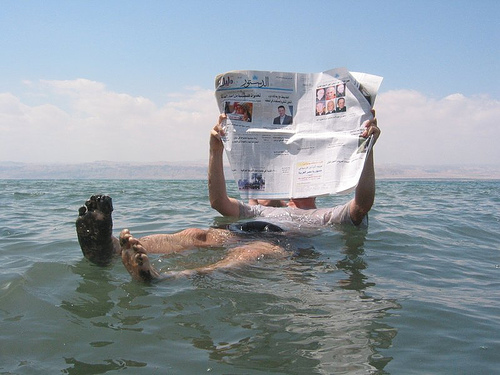 As one learns in Physics, density is defined as Mass Per Unit Volume. Things which are denser than water can float on it. Human body is denser than normal water. This is the reason we sink in water if we do not swim.
Salt can be added to water to increase its density. This is the reason we float in the Dead Sea without any effort as the water is heavily dense.
So as Archimedes saw in awe, the trick is density. Make water denser until it exceeds our density. The most common and cheapest way is by adding salt into it. But then, you would not get the effect by just adding a few tablespoon. It requires ten of kilo of salt or as many say: "about 30 kg (66 lb) in a standard bath-tub" 
It is a small amount, isn't it? You can retrieve salt by evaporation. But then I'd not recommend consuming that salt because your body's dusts might be suspended in it. 
Are you going to Do It Yourself?